You are here: Home : Products : Door Openers : Hormann Supramatic
Product: Hormann Supramatic E & P
Back to comparison page : Example of installed unit : Download Brochure : Place an order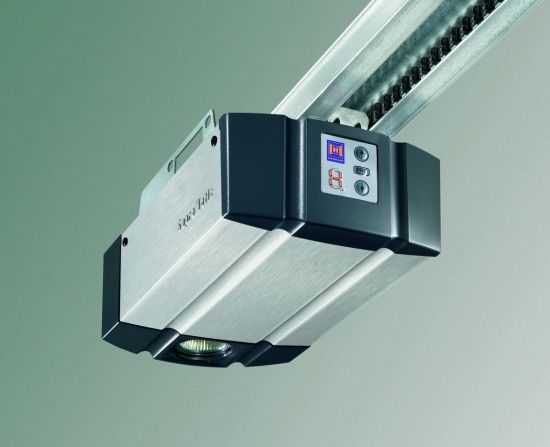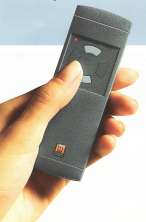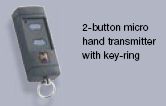 Product summary:
A very attractive and extremely quiet super-smooth operator, so a good choice if you have a room above your garage. Excellent build quality, electronic diagnostics and good for double width retractable, sectional or side hinge doors in good working order. Features include user programmable soft-start / soft-stop, intelligent self learning cut-out for your safety and switching of external lighting systems.
The Supramatic is totally maintenance free and comes with brackets suitable for mounting to standard retractable doors as well as sectional doors. Installation is very easy with the boom being pre-tensioned (no boom assembly required) and then mounted in place prior to the motor being fitted; this keeps the weight you have to lift to a minimum.
The one-piece toothed belt drive boom has a patent automatic latch for additional security and is available in different lengths to suit taller doors - see table below. One HS2 and one HSE2 remote controls are supplied.
Two models are available, the Supramatic E and the more powerful Supramatic P.


Specifications:
Operator:

Hormann Supramatic E & P

Motor pulling force:
Supramatic E -
Supramatic P -


800N (80Kg approx)
1000N (100Kg approx)

Motor type:

DC

Drive mechanism:

Toothed belt

Travel rate:

max 220mm per second

Lifting Capacity:
Supramatic E -
Supramatic P -

Variable to:
80 Kg's
100Kg's

Headroom clearance required:

30mm

Overall assembly length & travel:
Short boom-
Medium boom -
Long boom -


3200mm & 2475mm
3450mm & 2725mm
4215mm & 3400mm

Force adjustments:

Automatic up and down
| | |
| --- | --- |
| Soft-start / soft-stop feature: | Yes - electronically controlled |
Lighting:
Wattage -
Light delay time -


1 x 40W
3 minutes - adjustable

Safety/emergency:
Down cycle: safety reverse -
Up cycle: safety stop -
Automatic trolley reconnect -


Yes
Yes
Yes - via release button

Remote controls:
Frequency -
Number supplied in kit -


Coding system -

Operating range -
Dimensions -



868.3Mhz
Two: HS4 (four button) &
HSE2 (two button)
Supplied with clip case
Randomly selected code on installation (1 trillion codes)
40m (open field)
HSM2: 110mm x 37mm x 13mm
HSE4: 60mm x 25mm x 13mm

Wall switch:

None supplied but a simple door bell switch can be wired in

Warranty:

5 years - whole unit
(Remotes 1 year)

Electrical:
Voltage -
Wattage -
Standby power consumption -


230-240VAC, 50Hz
250W
4W

Construction:
Motor -
Rail (boom) -


Polycarbonate case
Steel
Which boom for your door?
Short boom is suitable for:
Retractable doors up to 2500mm high
Sectional doors less than 10' wide - Z application up to 2125mm high
Sectional doors over 10' wide - N application up to 2250mm high
Sectional doors over 10' wide with low headroom gear - L application up to 2125mm high
Medium boom is suitable for:
Retractable doors up to 2750mm high
Sectional doors less than 10' wide - Z application up to 2375mm high
Sectional doors over 10' wide - N application up to 2500mm high
Sectional doors over 10' wide with low headroom gear - L application up to 2375mm high
Long boom is suitable for:
Sectional doors with Z, N & L applications (standard and low headroom gear) up to 3000mm high
Prices:
Hormann Supramatic E with short boom: £325.00 incl. VAT - Free delivery
Hormann Supramatic E with medium boom: £345.00 incl. VAT - Free delivery
Hormann Supramatic E with long boom: £430.00 incl. VAT - Free delivery
Hormann Supramatic P with short boom: £399.00 incl. VAT - Free delivery
Hormann Supramatic P with medium boom: £420.00 incl. VAT - Free delivery
Hormann Supramatic P with long boom: £515.00 incl. VAT - Free delivery
Supplied kit Includes:

Motor
Belt drive pre-tensioned boom suitable for sectional or retractable doors
Remote control x 2 as detailed above
Bracket and linkage suitable for attachment to sectional or retractable door