You are here: Home : Products : Door Openers : DC 800 Example
Example of installed LiftMaster DC 800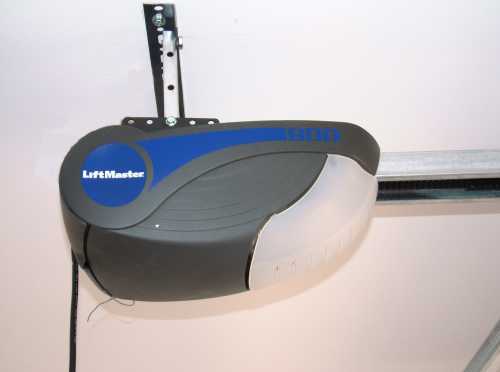 The LiftMaster DC 800 mounted to a finished ceiling (you can find the rafters by pinpointing the head of the plaster board nails with a voltage/metal/cable detector - be extremely careful not to drill into electrical cables. The DC 600 and 1000 look the same as this and are mounted in the same way.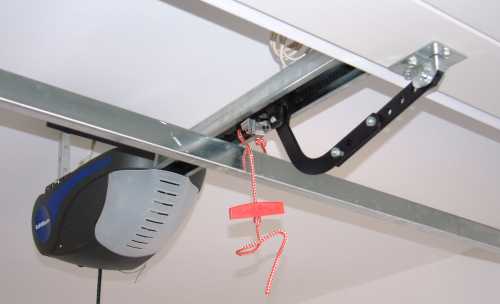 Here the DC 800 is fitted to a new Hormann sectional door - the door is shown open here. The black linkage arm has been shortened so as not to hit the rear portion of the doors frame assembly whilst still being able to close the door correctly.
Rear view. The loose wiring in this garage ceiling is for lighting that is not installed. Electrical supply for this opener has not been fitted at this point.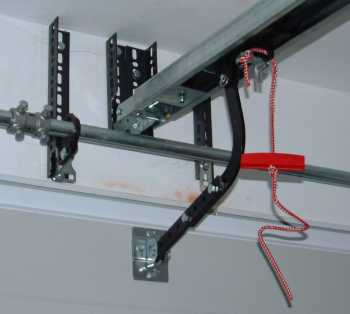 A hollow section lintel with plaster covering was used in the construction of this garage so no solid fixings were possible where the header bracket had to be located. 50mm Dexion was used to provide very touch anchors into solid brickwork just below the ceiling.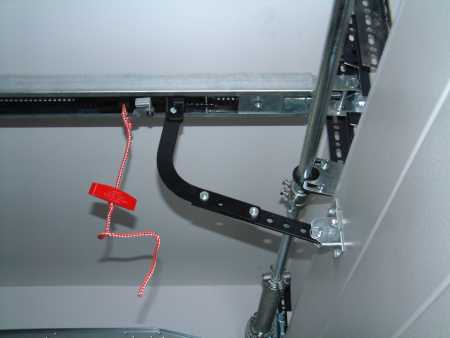 Linkage between the door and the trolley.